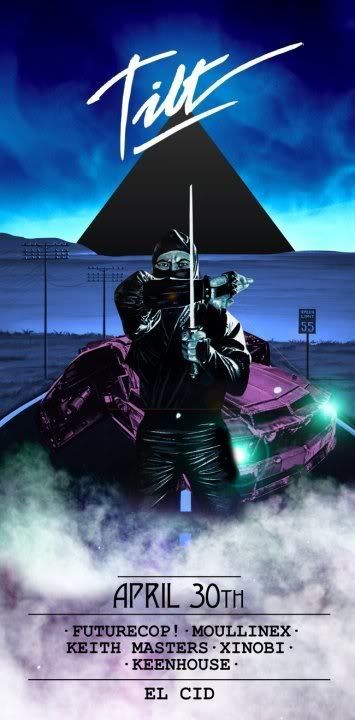 Some of you may remember TGIF being the slogan for the American family-friendly prime time programming block on the ABC network. Those of you who grew up following this Friday night annual gathering can reminisce of kicking back on the sofa and watching such staples as Perfect Strangers, Full House, Mr. Belvedere, Family Matters and Step By Step. Aside from the programming, the essential ingredient to a successful TGIF lifestyle consisted of a disciplined diet of Crystal Pepsi, Pizza and VHS rentals from Blockbuster.
Tomorrow nights show at El Cid in Los Angeles promises to be the closest musical equivalent to the forgotten TGIF lifestyle. Futurecop!, a group who needs no introduction here at Camp TNUC, will be joining the likes of Moullinex, Xinobi, Keenhouse and Keith Masters for a most-excellent showdown.
Lets take you back. Since its theatrical debut just a year ago, the Karate Kids video has received over 41,000 hits!

Aside from the greats putting on the show like TILT, Binary and D.I.S.C.O. TEXAS, it should be known that Crystal Pepsi, Pizza Hut, Hi-C Ecto Cooler and TNUC are all sponsoring this event which will be accompanied by some visuals courtesy of yours truly. BE THERE.